U16 Girls Hockey
Nina Rodgers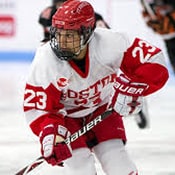 Nina Rodgers Nina Rodgers grew up in Minnetonka, Minnesota, and played hockey for the Royals at Hopkins High School where she was co-captain her junior and senior years. As an eighth grader she played with the Hopkins team that made it to the Minnesota High School Hockey State Tournament where they placed third. Nina also played for the Minnesota Junior Whitecaps and in the Upper Midwest Elite League. She was a 2-time silver medalist with the U18 USA National Team at the IIHF World Championships before playing two years at the University of Minnesota, winning back-to-back NCAA Division 1 National Championships. She transferred to Boston University, where she played two years for the Terriers in the Hockey East conference and graduated with a B.S. in Health Sciences. She played professional women's hockey during the 2018-19 season in the NWHL for the Connecticut Whale. In addition to an extensive playing career, Nina has coached alongside Winnie Brodt-Brown and other OS staff in the OS Spring League and 8 Week Training Program, as well as other hockey training programs.
Paige Jahnke
Director of Girls Hockey Paige Jahnke joined Gentry Academy in December 2018. Born and raised in Maplewood, Minnesota, Paige began her hockey career playing for Roseville High School. From 2008 to 2011, the teams Paige played on compiled a 76-11 record, winning the 2009 Minnesota State Championship along the way. Additionally, Paige played for the Minnesota Junior Whitecaps during the summer club seasons of 2010 and 2011, and played fall hockey for the Upper Midwest Fall Elite League, where she guided her team to the 2010 league championship and was a finalist for USA Hockey Advanced 15, 16, and 17.
Paige was a four-year letter winner at Penn State and an inaugural member of the Nittany Lions team that transitioned to a Division I program. During her four years playing for the Nittany Lions, Paige was honored with multiple academic awards that included College Hockey America All-Academic Conference, Big Ten Distinguished Scholar and Academic All-Big Ten Honors.
Along with her playing career, Paige has an impressive coaching resume. Before joining Gentry, she spent five years as the Mounds View High School Girls Head Coach, and also served as an assistant coach for numerous camps, including the 2017 CCM High Performance U14 Development Camp, Penn State Girls Hockey Camp, and OS Girls Hockey Camp.
"I coach to be a positive influence for young female athletes and to develop character that contains commitment, humility, trust and respect. I want to provide my athletes with the tools to become confident individuals and strong leaders. I am grateful to be a part of the Gentry Academy team and to be working with athletes who are so young and driven."
Amanda Leveille
Amanda, a Kingston, Ontario, native, is excited to share her passion for the game of hockey with the Galaxy association. Amanda currently plays professionally for the Buffalo Beauts of the National Women's Hockey League, the reigning Isobel Cup Champions!
Amanda played five consecutive years in AAA Boys hockey from 2006-2010, including the Minor Midget Showcase year in 2009-2010. In the years prior, she was affiliated to the older Greater Kingston AAA teams (Minor Bantam, Major Bantam, Minor Midget and Major Midget).
Amanda was invited to three Junior A Prospect Camps (men 16-21). She accepted the invitation from the Nepean Raiders of the Canadian Junior Hockey League, and was the first woman to participate in a Raiders Prospect camp. There, she didn't allow a goal in six appearances. She was awarded an invitation to the Raiders Main Camp even though she had already committed to Luke Richardson to play in Ottawa with his Lady Senators team in The Provincial Women's Hockey League (PWHL). Leveille participated in the Main Camp and only allowed a goal after eight appearances.
In high school, Amanda was named the top goaltender at the 2011 Canadian National Under-18 Championship, where she was also named the MVP of the championship game after leading her team to the national title.
Amanda went on to star at the University of Minnesota, where she helped the Golden Gophers to win NCAA Tournament Championships in 2013, 2015 and 2016. In her 116 games with the U of M, she had a fantastic .947 save percentage and a 1.18 goals allowed average. She earned All-USCHO Second Team honors, was named to the WCHA All-Academic Team, was an Academic All-Big Ten honoree, and was named to the NCAA Frozen Four All-Tournament Team.
Meaghan Pezon
When Meaghan Pezon was growing up, the only way she could have spent more time on the ice is if she had lived on it. As it was, her backyard was already a rink. By high school, Meaghan's prowess on the ice was solidified — as a senior at Eden Prairie High School, she led her team to an undefeated season, and its first state championship.
She played with the St. Cloud State University Huskies for four years, where her decisive skating and dominant delivery as forward helped the fledgling program develop into a serious division contender. During her senior year, the Huskies were third in the WCHA, which was the first time a team other than the University of Minnesota, University of Wisconsin or University of Minnesota-Duluth finished that high in the standings. Additionally, Meaghan was named the Offensive Player of the Week by US College Hockey Online in both 2006 and 2007.
Meaghan was a member of the 2011 Minnesota Whitecaps WWHL championship team and continues to play professional hockey with them.
Schedule
| DATE | OPPONENT | LOCATION | TIME | SCORE |
| --- | --- | --- | --- | --- |
| {{ game.date }} | {{ game.opponent }} | {{ game.location }} | {{ game.time ? game.time : '-' }} | {{ game.score ? game.score : '-' }} |