'04 Boys Hockey
Coaches
Cole Bassett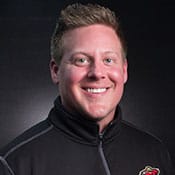 Cole joins Gentry Academy bringing along with him a vast amount of experience in both on-ice skill development and coaching. During his youth hockey years, Cole played with the Burnsville association before becoming a member of the Hill-Murray Varsity hockey team in both his freshman and sophomore seasons. His junior and senior seasons were spent representing his country playing with the US National Under-18 Team Development Program (NTDP) based in Ann Arbor, MI from '98-00.
Cole earned a Division 1 scholarship with Minnesota State-Mankato where he skated from '00-04. His best season came during the '02-03 season where he finished with a career high, 12 power play goals which ranked 7th nationally. That same year the team earned a berth in the NCAA Championship Tournament. After college, he played two seasons at the professional level attending the Chicago Wolves (AHL) training camp in the fall of '04.
Cole's coaching career started when he volunteered with the '08 MN State Champions Hill-Murray. From there, Cole was an assistant coach with the NTDP for two years in which he primarily worked with the '92 birth year. The team won the '10 IIHF Under-18 World Championships gold medal.
Cole spent the '11-12 season as an assistant coach with the Wheeling Nailers, the Pittsburgh Penguins ECHL affiliate.
Since '12, Cole has returned to Minnesota where he was the Minnesota Regional Scouting Manager and Head Bantam scout for the NTDP from '12-15. Responsibilities included identifying the top talent in Minnesota at the 14 and 15 year old age range as potential prospects for the NTDP. Cole has worked multiple camps and clinics and is very passionate about teaching hockey and giving back to today's youth.
| DATE | OPPONENT | LOCATION | TIME | SCORE |
| --- | --- | --- | --- | --- |
| {{ game.date }} | {{ game.opponent }} | {{ game.location }} | {{ game.time ? game.time : '-' }} | {{ game.score ? game.score : '-' }} |
| NO. | PLAYER | POSITION | SHOT | HEIGHT | WEIGHT |
| --- | --- | --- | --- | --- | --- |
| {{ (player.player_jersey_number) ? player.player_jersey_number : '#' }} | {{ player.player_name }} | {{ player.position ? player.position : '-' }} | {{ player.shoot ? player.shoot : '-' }} | {{ player.height ? player.height : '-' }} | {{ player.weight ? player.weight : '-' }} lbs |
Showcases